On Wednesday, Syracuse announced that assistant coach Adrian Autry had been given the job, ending the 47-year run of basketball Hall of Famer Jim Boeheim as head coach.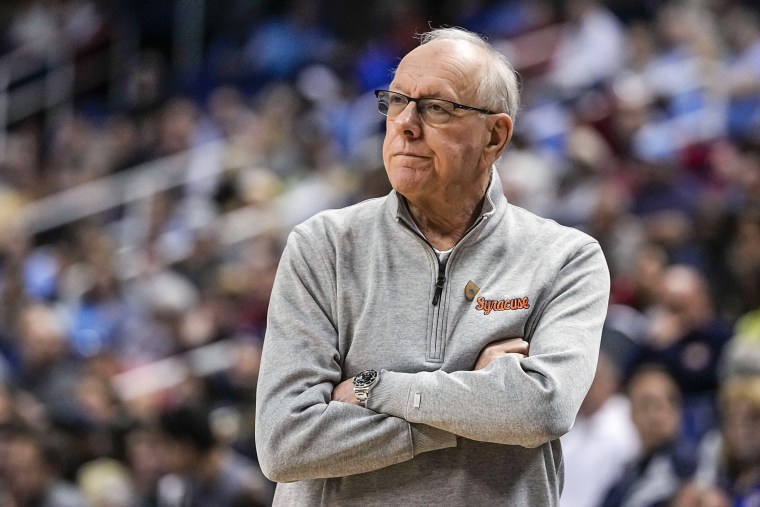 Jim Boeheim is a well-known name in the world of college basketball. He has been the head coach of the Syracuse Orange men's basketball team for over four decades, making him one of the longest-tenured coaches in college basketball history.
The announcement comes less than three hours after Syracuse lost to Wake Forest in the Atlantic Coast Conference tournament, following which Boeheim hinted at retirement but stated that the choice will ultimately be made by the university.
The school then broke the following news: "Today, as his 47th season coaching his alma mater comes to an end, so too does his storied career at Syracuse University. Associate Head Coach Adrian Autry '94, one of Jim Boeheim's former players and longtime assistant, has been named the program's next head coach."
Since March 2017, Autry has served as the associate head coach on Boeheim's staff, having joined it in 2011.
Officially, the 78-year-old Boeheim has a 1,015-441 record throughout his 47 seasons. It reflects 101 victories that were docked by the NCAA between the 2004–07 and 2010–12 seasons due to infractions.
Only now-retired Duke coach Mike Krzyzewski had more victories in Division I than Boeheim, whether the total was 1,015 or 1,116.
Jim Boeheim Early Life And Career
Boeheim was born on November 17, 1944, in Lyons, New York. He attended Syracuse University, where he played on the basketball team as a walk-on for two seasons before becoming a team manager. After graduating with a degree in social science, Boeheim started his coaching career as an assistant coach at Syracuse in 1969. In 1976, he was named the head coach of the Syracuse Orange men's basketball team.
Boeheim's coaching style is characterized by his emphasis on defense and the zone defense strategy. He is known for his ability to adapt his game plan to the strengths and weaknesses of his team and his opponents. His coaching philosophy is built on the belief that basketball is a team sport, and success is achieved through teamwork and selflessness.
Under Boeheim's leadership, Syracuse has enjoyed a great deal of success. The Orange have made 34 NCAA tournament appearances, including five Final Four appearances and one National Championship in 2003. Boeheim has also coached 54 All-Americans,18 NBA first-round draft picks, and has won five Big East Coach of the Year awards.
Philanthropic Efforts
Off the court, Boeheim is known for his philanthropic work. He and his wife Juli founded the Jim and Juli Boeheim Foundation in 2000, which focuses on helping children in need in Central New York. The foundation has raised over $10 million for organizations that support children with cancer, those in need of medical care, and those who have been victims of abuse.
Despite his many accomplishments, Boeheim has not been immune to controversy. In 2011, he was involved in a scandal when a former Syracuse assistant coach was accused of sexually abusing children. Boeheim initially defended the assistant coach, but later apologized and expressed remorse for his comments.
Boeheim has also been critical of the NCAA, particularly its handling of the investigation into Syracuse's basketball program. In 2015, Syracuse was hit with sanctions, including a postseason ban, for a variety of infractions, including academic fraud and improper benefits to players. Boeheim has been outspoken in his criticism of the NCAA's handling of the case, arguing that the punishment was too severe and unfair.
Despite these controversies, Boeheim remains a respected figure in the basketball community. His dedication to his team, his players, and his community has earned him the admiration of many. His longevity as a coach is a testament to his skill and his passion for the game.
Despite being a student and an athlete, Sachin never lets himself be confined merely to sports or academics and rightly shows vivid interest in work behind the lenses thus, making him the right fit for being a content creator at Landscape Insight. He serves the website with various reports from the entertainment industries right from web series to movies. When not found writing, he enjoys listening to music and playing video games.
You can reach me at sachinkankaria5@gmail.com or through our website's contact page.