Bernard Arnault is a French billionaire and the CEO of LVMH (Louis Vuitton Moet Hennessy), the world's largest luxury goods company. Arnault has been credited with transforming LVMH into a global powerhouse that includes some of the most prestigious brands in fashion, jewelry, and spirits.
The world's wealthiest people have had another difficult year, with global stock market volatility, increasing interest rates, and "wounded unicorns" dragging down their collective net worth for the second year in a row, according to the Forbes 2023 World Billionaires List.
Forbes claimed in its annual report that the collective net worth of the world's billionaires fell to $12.2 trillion over the previous year, down from $12.7 trillion in March 2022, based on stock prices and currency rates as of March 10.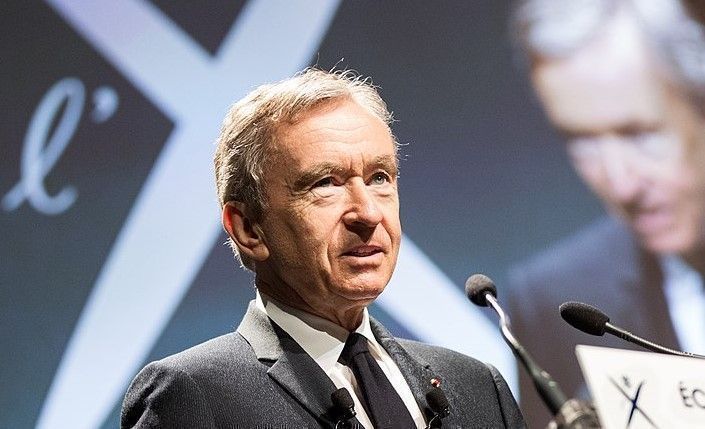 In this article, we'll take a closer look at Bernard Arnault's net worth, his rise to success, and his impressive career achievements.
Early Life and Education
Bernard Arnault was born on March 5, 1949, in Roubaix, France. His father owned a construction company, and his mother was a pianist. Arnault's parents instilled in him a strong work ethic and encouraged him to pursue a career in engineering.
Arnault attended the prestigious Ecole Polytechnique in Paris, where he earned a degree in engineering. After graduation, Arnault worked for his father's construction company before branching out into real estate.
Building His Fortune
Arnault's first major business venture came in 1984 when he bought a struggling French textile company called Boussac Saint-Freres, which owned the fashion house, Christian Dior. Arnault successfully turned around the company, and in 1987 he merged it with LVMH, creating the world's largest luxury goods company.
Under Arnault's leadership, LVMH continued to grow and acquire other luxury brands. In 1999, LVMH acquired the fashion house Fendi, and in 2011, it acquired the Italian jewelry brand Bulgari. Arnault's most significant acquisition came in 2018 when LVMH purchased the iconic American jewelry company Tiffany & Co. for $16.2 billion.
Today, LVMH is a massive conglomerate that includes 75 different luxury brands, ranging from fashion and jewelry to wine and spirits. In 2022, LVMH's revenue was over €65 billion, and the company employed more than 163,000 people.
Bernard Arnault's Net Worth
According to Forbes, Bernard Arnault's net worth is estimated to be $223.4 billion as of April 2023, making him the richest person in the world, overtaking Tesla and Twitter's boss Elon Musk. The bulk of Arnault's wealth comes from his stake in LVMH, which is valued at over $200 billion.
Arnault's impressive net worth is a testament to his business acumen and ability to build and grow successful companies. He's turned LVMH into a luxury goods empire that's the envy of the fashion world.
Philanthropy
Despite his enormous wealth, Arnault is known for his philanthropic endeavors. He's donated millions of dollars to various charities over the years, including the Fondation Louis Vuitton, which supports contemporary art, and the Institut Curie, a leading cancer research center in France.
Arnault is also a member of the Giving Pledge, a commitment by some of the world's wealthiest people to give away the majority of their wealth to address society's most pressing problems.
Personal Life
Arnault is a private person, and not much is known about his personal life. He's been married twice and has five children. He's also known for his love of art and has an extensive collection that includes works by Picasso, Mondrian, and Warhol.
Arnault's lavish lifestyle includes multiple homes around the world, a private jet, and a yacht. He's often seen at high-profile events, including fashion shows and art auctions.
World's Top 10 Richest People in 2023
Bernard Arnault — $223 billion
Elon Musk — $180 billion
Jeff Bezos — $114 billion
Larry Ellison — $107 billion
Warren Buffett — $106 billion
Bill Gates — $104 billion
Michael Bloomberg — $94.5 billion
Carlos Slim — $93 billion
Mukesh Ambani — $83.4 billion
Steve Ballmer — $80.7 billion
Final Thoughts
Bernard Arnault's net worth is a testament to his success as a businessman and his ability to turn struggling companies into global powerhouses. His leadership of LVMH has taken the company to greater heights and is the first choice of many celebrities and well-to-do people who can afford the luxury.
Despite being a student and an athlete, Sachin never lets himself be confined merely to sports or academics and rightly shows vivid interest in work behind the lenses thus, making him the right fit for being a content creator at Landscape Insight. He serves the website with various reports from the entertainment industries right from web series to movies. When not found writing, he enjoys listening to music and playing video games.
You can reach me at sachinkankaria5@gmail.com or through our website's contact page.