Unveiling the Remarkable Lineage of Music Royalty: Blue Ivy Carter
Blue Ivy Carter's name holds a lot of weight in the entertainment business. Blue Ivy, who was born on January 7, 2012, into a world of riches and skill, has caught the public's attention since her birth. Blue Ivy Carter is without a doubt destined for success as the daughter of two music giants, Beyoncé Knowles-Carter and Shawn "Jay-Z" Carter. In this piece, we dive into her renowned parents' life and examine the enormous impact they had on her childhood.
The Dynamic Duo: Jay-Z and Beyoncé Knowles-Carter:
Beyoncé Knowles-Carter, better known as Beyoncé, needs no introduction. The American singer, and songwriter, in addition to being an actress, rose to prominence as the main vocalist of Destiny's Child before launching a hugely successful solo career. Her iconic performances and empowering anthems have cemented her status as one of the greatest entertainers of our time.
Shawn "Jay-Z" Carter, on the other hand, is a rapper, songwriter, and entrepreneur. Known for his lyrical prowess and business acumen, Jay-Z has not only dominated the music charts but has also made a significant impact in the business world. From founding his own record label, Roc-A-Fella Records, to launching successful ventures like Rocawear and Tidal, Jay-Z's influence extends far beyond the realm of music.
Love, Marriage, and Blue Ivy:
Beyoncé and Jay-Z's love story began in the early 2000s when they collaborated on several music projects. Their relationship blossomed, and they tied the knot in a private ceremony in 2008. Blue Ivy Carter's arrival in 2012 brought immense joy to the power couple, and the world eagerly awaited the first glimpses of their beautiful daughter.
Shattering Records from Birth:
Even before Blue Ivy could comprehend the magnitude of her lineage, she was making headlines. At just two days old, she became the youngest person to ever appear on a Billboard chart. Her cries were included on Jay-Z's track, "Glory," a heartfelt tribute to his newborn daughter. The song debuted at number 74 on the Billboard Hot R&B/Hip-Hop Songs chart, captivating audiences around the world.
An Influential Upbringing:
Blue Ivy's parents have made a conscious effort to provide her with a balanced upbringing that nurtures her talents while shielding her from excessive media attention. Despite their superstar status, Beyoncé and Jay-Z have managed to keep their family life relatively private, allowing Blue Ivy to enjoy a somewhat normal childhood.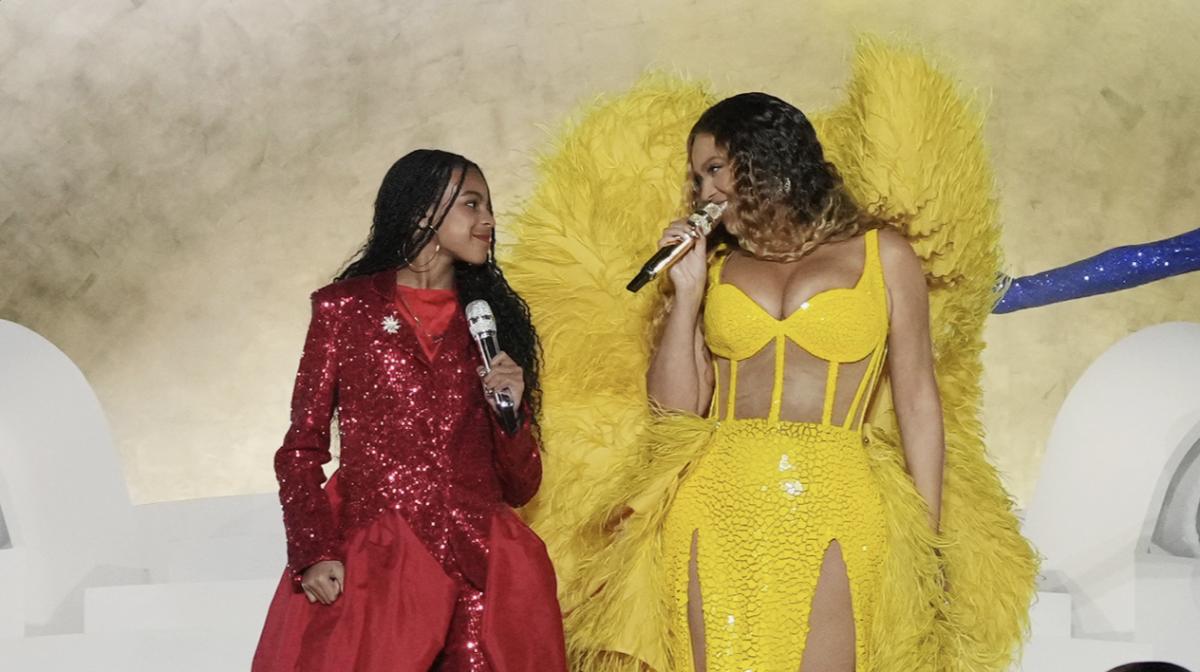 Cultural Impact and Philanthropy:
Beyoncé and Jay-Z have consistently used their platforms to promote social justice and philanthropy. They have instilled these values in their daughter from an early age, ensuring that she understands the importance of giving back. Blue Ivy has already made charitable contributions at a young age, The Heir Apparent:
Blue Ivy is developing her own abilities and interests as she gets older. Blue Ivy has inherited her parents' charm as well as stage presence, as seen by her engaging performances at award presentations and her remarkable dance talents in music videos. It would not be unexpected to see her own artistic aspirations and triumphs in the not-too-distant future.
Summary Of Findings:
In conclusion, Blue Ivy Carter is an undoubtedly privileged youngster, born into opulence and surrounded by exceptional talent. With Beyoncé and Jay-Z as parents, her life path appears to be predestined for greatness. What actually distinguishes Blue Ivy is the caring as well as grounded upbringing she receives from her celebrity parents. As she grows and evolves, the world is looking forward to the mark she will make on her own terms, charting her own path while honoring the heritage of her amazing ancestors.
Despite being a student and an athlete, Sachin never lets himself be confined merely to sports or academics and rightly shows vivid interest in work behind the lenses thus, making him the right fit for being a content creator at Landscape Insight. He serves the website with various reports from the entertainment industries right from web series to movies. When not found writing, he enjoys listening to music and playing video games.
You can reach me at sachinkankaria5@gmail.com or through our website's contact page.