The sequel to Hiro Mashima's Fairy Tail manga, Fairy Tail: 100 Years Quest will also be animated, following in the footsteps of its predecessor. The manga's sequel, Fairy Tail: 100 Years Quest, debuted in July 2018 and an anime series was confirmed for July 2021.
Since then, information about the Fairy Tail: 100 Years Quest anime release has been scarce, with rumors of a 2023 announcement and a potential 2024 release date.
Release Date for Fairy Tail: 100 Years Quest
There are currently no new developments on the anime adaptation. A teaser and a key animation were uploaded on Shonen Magazine's official Twitter account. By the middle of 2023, fans can anticipate an announcement. Early 2014 is the anticipated release date for this sequel.
Although we are unaware of the studio or the actors, we anticipate that they will likely be the same. The production of this sequel, however, may not be handled by A-1 Pictures given that Eden's Zero, its successor, is animated by J.C. Staff.
Fairy Tail: 100 Years Quest Plot
Given that the first Fairy Tail anime was as well-liked as Shonen Jump's Big Three, it's impossible to predict how popular the second one will be. It's worth delving into the upcoming Fairy Tail anime plot if it performs as well as its predecessor.
The manga continuation continues where the first Fairy Tail left off. On the northern continent of Guiltina, Natsu, Lucy, Gray, Erza, Wendy, Happy, and Carla have all begun a 100-year adventure. As the title suggests, no one has been able to finish the task in at least a century since it is so challenging.

What's the storyline of Fairy Tail: 100 Years Quest?
Natsu's gang must seal the Five Dragon Gods by all means necessary in order to complete the "100 Years Quest" that they set out on. These five dragons are so strong that any one of them may cause worldwide destruction. This places them all on par with Acnologia from the previous season in terms of threat. As challenging as sealing these Dragon Gods may seem, it's not the only obstacle Natsu and company must overcome.
Touka, a new mage from back home, has joined the Fairy Tail guild in an effort to connect with Natsu. Although she initially seems like a good fit for the guild, she actually has a dark side. This evil creature, known as the White Mage, reportedly possesses the power to steal and destroy the magic of others. The White Witch would be the Zeref of this series if the Five Dragon Gods were 100 Years Quest's Acnologia.
Fairy Tail: The 100-Year-Old-Quest: What to Expect
Natsu, the protagonist of the fairy tale, is depicted in the middle of a collage containing several other figures.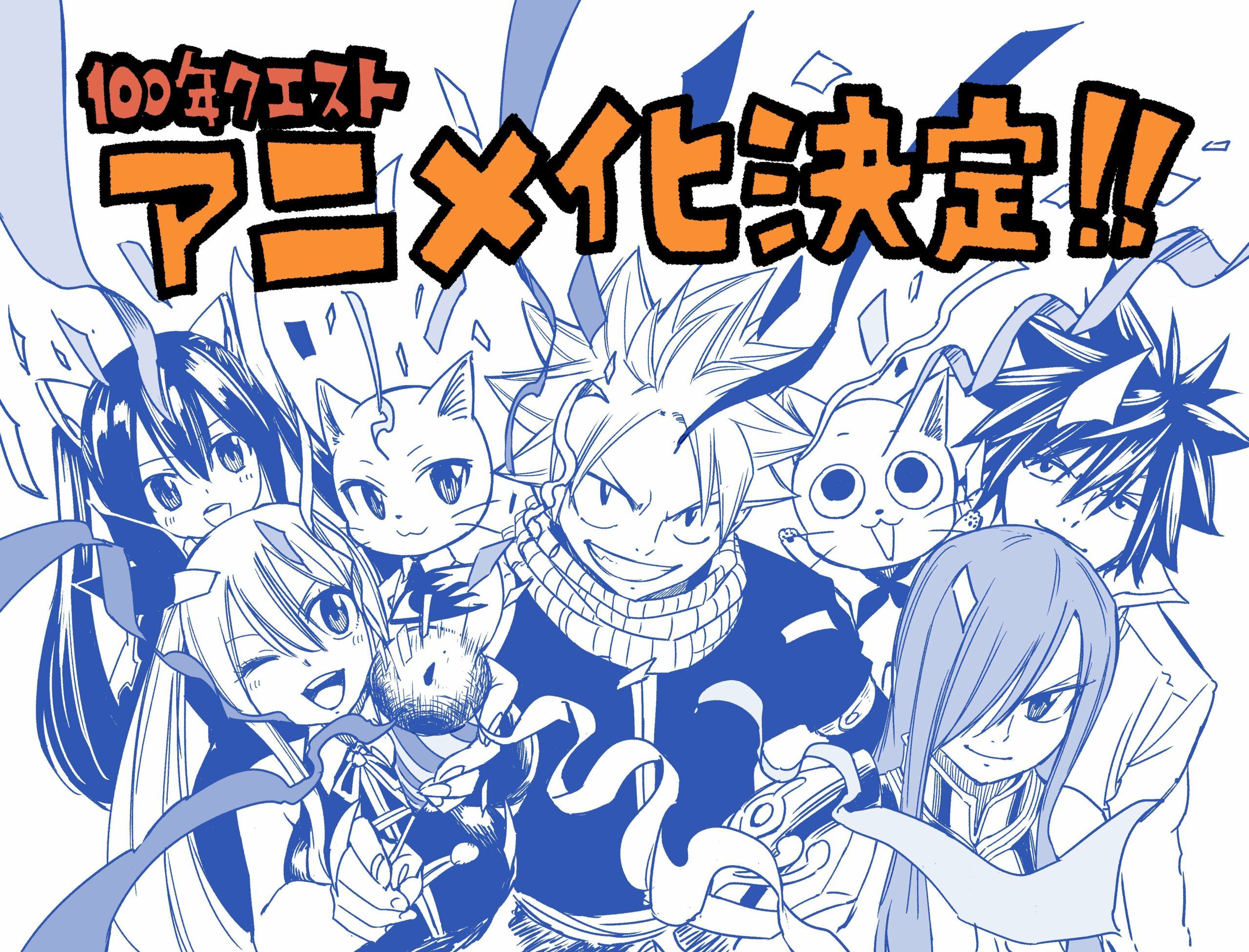 Fairy Tail 100 Years Quest has lots of content besides villains that should please longtime readers of the series. There will be plenty of fan service, action, comedy, cameos from original cast members, and references to the original series that made Fairy Tail so popular. Watching 100 Years Quest is sure to invigorate any Fairy Tail enthusiast.
Despite the fact that there is still no word on when the first batch of episodes of 100 Years Quest will be aired, the upcoming anime series is still receiving a lot of attention. Fans of the first Fairy Tail series should tune in, and the exciting action and likable characters should win over new viewers. The success of the anime depends on whether or not it can replicate the charm of the manga.
While it's true that Fairy Tail was never as popular as the classic big three of the same era, the landscape of shonen anime has changed significantly in recent years, making it easier for other series to find their footing and explore new territory within the genre. In the wake of new blockbuster series like My Hero Academia and Demon Slayer, smaller, more focused sequels like Spy x Family and Hell's Paradise have achieved success.
Conclusion
The manga invites readers to dive back into the enchanting realm, where adventure, magic, and camaraderie are at the forefront. With its continuation of the beloved storylines and introduction of new challenges, characters, and mysteries, this sequel promises to be a captivating addition to the "Fairy Tail" saga.
Whether you're a long-standing fan of the guild or a newcomer to this magical world, "Fairy Tail: 100 Years Quest" offers a spellbinding journey that's sure to captivate the imagination.
Relevant Articles:
Top 10 Boys Love Anime 2023: Celebrating Love and Relationships
Hunter X Hunter Manga Returns After a Four-Year Hiatus
Despite being a student and an athlete, Sachin never lets himself be confined merely to sports or academics and rightly shows vivid interest in work behind the lenses thus, making him the right fit for being a content creator at Landscape Insight. He serves the website with various reports from the entertainment industries right from web series to movies. When not found writing, he enjoys listening to music and playing video games.
You can reach me at sachinkankaria5@gmail.com or through our website's contact page.